Beer Festivals
What would Germany be without its beer festivals?
From the Oktober Fest (known locally as 'Die Wiesn') in Bavaria to the Heiner Fest in Hessen - lots of beer - lots of music - lots of fun. Just don't take your car, no parking, streets closed, beer drunk - you get the idea.
You will find that German communities around the world celebrate with their own Oktoberfests, an opportunity to celebrate their heritage, and if nothing else, have a really "gut" time. On holiday In Italy for instance it was quite surreal to find there was an Oktober fest near the village we were staying in. It was the only cultural event we went to - talk about coals to Newcastle.
Things to try:-
Beer - Basically beer falls into different types; yeasty beer (Heffe Weisen) clear wheat beer (Weissbier), and lager (Helles Bier). You get different types of all these beers, e.g. dark wheat beers, yeasty wheat beers and so on.
A nice Weissbeer makes a perfect (and obligatory) accompaniment to a Weisswurst, pretzel and mustard. Note, sometimes a Weissbier is called a Weiz'n (pronounced Vights'n).
More about German beer here.
The Maß is a litre of beer. Drink one with a friend, don't try to drink two on your own you will be ill, and the loos always have long queues. Don't say I didn't warn you.
Wurst - If you do eat meat, having a wurst is an absolute must at some point, preferably in a Beer Cellar (Bierkeller) or Beer garden (Biergarten). Just like the beer there are several different types.
German wurst, or sausages come in two basic categories:-
Fresh sausages - This includes sausages that are uncooked and ones that are cooked once but need recooking or reheating. Most are made of raw pork, veal or beef, bacon or ham, egg, pickling salt and spices, and are then cooked in water and sometimes lightly smoked. Some are made of cooked ingredients which are then cooked a second time after being stuffed into links, and may also be smoked. Fresh bratwurst is one type of raw sausage that that needs full cooking. Fresh sausages that come cooked but need reheating include knockwurst and wieners. Fresh sausages, both raw and cooked, need to be kept refrigerated.
Bockwurst - smoked and scalded, usually made from finely ground veal; spiced with chives and parsley; resembles a large frankfurter; gently heat in liquid before eating; traditionally served with Bock beer, especially in the spring
Bratwurst - a pale, smoked sausage made of finely minced veal, pork, ginger, nutmeg and other spices; usually comes raw and must be cooked, but precooked bratwurst is also available (reheat before serving)
Currywurst - the late Herta Heuwer, is said to have invented the currywurst sausage.
Frankfurter - the genuine German variety (not the same as an American frankfurter) contains finely chopped lean pork with a bit of salted bacon fat, and is smoked; reheat in simmering liquid
Knockwurst; knackwurst - a short, plump smoked sausage needing poaching or grilling; contains finely minced lean pork, beef, spices and, notably, garlic; often served with sauerkraut
Wienerwurst - believed to be the origin of American frankfurter; beef and pork flavored with coriander and garlic
Nurnberger Bratwurst - my personal favourite - it is usually grilled and is smaller than your average wurst.
Weisswurst - German for "white sausage" and is very pale and delicately flavored; made of veal, sometimes beef and pork, cream and eggs; a specialty of Munich and traditionally served at Oktoberfest with rye bread, sweet mustard and of course, beer.
Slicing and spreading sausages - These are ready to eat, cold cut-style sausages. They are fully cured. Some are firm and are best sliced, but there are also soft sausages made for spreading. Liverwurst is one category of spreadable sausage and must contain at least 30 percent pork liver.
Bierschinken - a large slicing sausage with chunks of ham and pistachios
Bierwurst - coarse-textured slicing sausage flavored with juniper berries and cardamom
Blutwurst - blood sausage, which comes in many varieties; it is eaten sliced and cold or fried like black pudding
Braunschweiger - a speadable smoked liver sausage enriched with eggs and milk; the most well known of the liverwurst sausages
Cervelat - similar to Italian salami, a slicing sausage of pork and beef, spices and often mustard or garlic; Thuringer is a common variety of German cervelat.
Leber Käse - Translate this and you will find it means 'liver cheese' - yum - it's actually a kind of meatloaf served in thick slices. It's not the prettiest thing to look at, basically you'll either love it or hate it.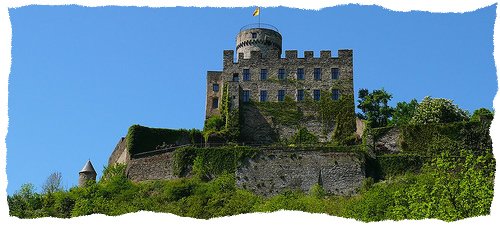 Christmas in Germany - "Froehliche Weihnachten"
According to legend, on Christmas Eve in Germany rivers turn to wine, animals speak to each other, tree blossoms bear fruit, mountains open up to reveal precious gems, and church bells can be heard ringing from the bottom of the sea. Of course, only the pure in heart can witness this Christmas magic (suffice to say I have never seen it). All others must content themselves with traditional German celebrations, of which there are plenty. As a matter of fact, there is so much celebrating that it has to begin on December 6th, St. Nicholas Day.
As in many other European countries, on the eve of Dec. 6th children place a shoe or boot by the fireplace. During the night, St. Nicholas, the patron saint of children, hops from house to house carrying a book of sins in which all of the misdeeds of the children are written. If they have been good, he fills the shoe or boot with delicious holiday edibles. If they have not been good, their shoe is filled with twigs.
December 21st, the shortest day (longest night / Winter Solstice) of the year, is dubbed St. Thomas Day. In parts of the Sauerland, whoever wakes up late or arrives late to work on that day is issued the title "Thomas Donkey." They are given a cardboard donkey and are the subject of numerous jokes throughout the day. But this gentle abuse ends deliciously with round, iced currant buns called "Thomasplitzchen". In other parts of Germany it is called other names such as Durchspinn-Nacht or Durchsitz-Nacht. Traditionally lot of alcohol is consumed and the next day is often called Kotzmorgen (hangover morning).
This is all preliminary to the excitement of Christmas Eve. Prior to the evening feast, is the presentation of the tree. The Christmas tree, as we know it, originated in Germany. It has a mysterious magic for the young because they are not allowed to see it until Christmas Eve. While the children are occupied with another room (usually by Father) Mother brings out the Christmas tree and decorates it with apples, candy, nuts, cookies, cars, trains, angels, tinsel, family treasures and candles or lights. The presents are placed under the tree. Somewhere, close to the bright display are laid brilliantly decorated plates for each family member, loaded with fruits, nuts, marzipan, chocolate and biscuits. When all is ready a bell is rung as a signal for the children to enter this Christmas fantasy room. Carols are sung, sometimes sparklers are lit, the Christmas story is read and gifts are opened.
"Dickbauch" means "fat stomach" and is a name given to the Christmas Eve because of the tradition that those who do not eat well on Christmas Eve will be haunted by demons during the night. So the opportunity is given to enjoy dishes such as suckling pig, "reisbrei" (a sweet cinnamon), white sausage, macaroni salad, and many regional dishes.
Christmas Day brings with it a banquet of plump roast goose, "Christstollen" (long loaves of bread bursting with nuts, raisins, citron and dried fruit), "Lebkuchen" (spice bars), marzipan, and "Dresden Stollen" ( a moist, heavy bread filled with fruit).
Of Special Note...
The custom of trimming and lighting a Christmas tree had its origin in pre-Christian Germany, the tree symbolizing the Garden of Eden. It was called the "Paradise Baum," or tree of Paradise. Gradually, the custom of decorating the tree with cookies, fruit and eventually candles evolved. Other countries soon adapted the custom. Charles Dickens called it "The Pretty German Toy."
Recipes
Lebkuchen (Spice Bars)
2 cups honey
5 cups flour
l cup grated unblanched almonds
1/2 tsp. cinnamon
1/2 tsp. powdered cloves
l cup mixed candied fruits (orange, lemon and citron peel)
tsp. baking powder
Egg White Icing (see recipe below)
Heat honey until thin; do not boil. Mix in all other ingredients except icing. Turn onto floured board and knead until smooth, adding a little flour if necessary. Roll with a floured rolling pin to 1/2" thickness. Grease and flour a baking sheet and lay rolled dough on it. Bake in pre-heated 350 degrees oven about 20 minutes. Spread with icing while hot; cool before cutting into rectangles.
Egg White Icing
2 egg whites
1 L cups confectioner's sugar, shifted
1 tbl. lemon juice
Whip egg whites until they stand in stiff peaks. Add sugar and lemon and juice and continue beating until thick and glossy. Spread on cake or cookies with a spatula.
Polterabend
Ever heard of POLTERABEND? Literally translated it means "Rumble Evening", but don't worry it isn't chucking out time in Nottingham's city centre. It's actually an event held on the night before a wedding. Other (regional) versions are "Holabend," "Rumpelnacht" and "Schaiwomt" (Scherbenabend).
Polterabend was first mentioned in 1517 (central Germany) and the idea was to make a lot of noise to protect the young bridal pair from ghoolies and ghosties and any harmful spirits. Something similar is carried out in Britain where we traditionally tie lots of tin cans to the bride and grooms' car.
Invitations
Often friends, neighbours, club members and colleagues are invited to the Polterabend. They may not be invited to the wedding, which is often only for close family, and this gives everyone the chance to celebrate the forthcoming marriage.
Tradition
All the guests bring along old dishes and then smash them on the ground as a sign of good luck (may nothing ever be broken in your home again). In some regions, the bride must then sweep up the damage, in some the bridegroom does it. But in my favourite regions they do it together, symbolising the sharing of such chores - yahoo!